Big Sales Days are a perfect opportunity to shop for a year ahead and get amazing bonuses. Our friend, tracker & TDS 'AdsBridge' is organizing an unforgettable Black Friday, which will last for a couple of days.
During November 24-27th, you have a unique chance to hit the jackpot.
With a unique promo code AdsBridgeTLBF the tariffs from the AdsBridge pricelist for the TerraLeads partners will be at half-price! Plus, every participant gets 500 t-coins for the balance.
To get your discount, register in the tracking system by the link https://partner.adsbridge.com/registration and use promo code AdsBridgeTLBF
P.S. We advise you to choose annual AdsBridge tariffs, which are already 15% cheaper. And with our discount, the prices are just hot!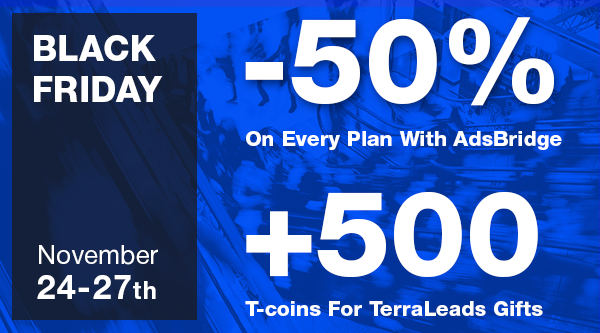 Dieser Beitrag wurde editiert von Eugene Mikitenko am 21. November 2017 17:04:41 CET